Print this page
Our team of researchers depend on the involvement of willing volunteers to help with surveys and studies, which aid their research and knowledge. 
Can you help with our latest Research Studies?
---
Study to investigate the use of a handheld screening device to help diagnose eye conditions affecting the retina. 
People who are referred to hospital eye clinics often wait weeks, sometimes longer, to get a diagnosis. Much of this is due to NHS waiting lists for specialist tests.
Dr Jay Self and his team in Southampton are studying the use of a handheld device which can help diagnose some eye conditions affecting the retina. The equipment could be used in any eye department in the UK, helping shorten waiting times for a specialist test called an electroretinogram (ERG) or a Visual Evoked Potentials (VEP) test. Work so far in Southampton eye unit has shown that using the device as a screening tool has the potential to shorten waiting times for patients who need this test, meaning faster diagnosis and treatment.
Jay and his team would now like to run a large study into the use of the device and need help from people who have been patients in eye services to advise on how the study should be run from a patient's viewpoint. This process is called Patient and Public Involvement (PPI) and is key to designing the best clinical studies as only patients can really give the feedback that is needed.
Involvement means the team keeping your email contact (only as long as you are happy) and contacting you a few times a year to ask your opinion of a project either by email or taking part in an online meeting. Attendance is, of course, voluntary.
If you would like to help, please contact the team by email eyeppisouthampton@gmail.com and they will get in touch when the meetings are planned. We'd love to hear from you.
---
Occlusion Therapy (Patching) Surveys
Amblyopia, also known as lazy eye, is the most common, but treatable, cause of visual impairment in children. Effective treatment involves covering the eye with better vision for a set time on a regular basis (occlusion therapy), yet in half of the cases, the treatment does not work, as the children resist wearing the patch.
Survey to help us understand any challenges of Patching Therapy: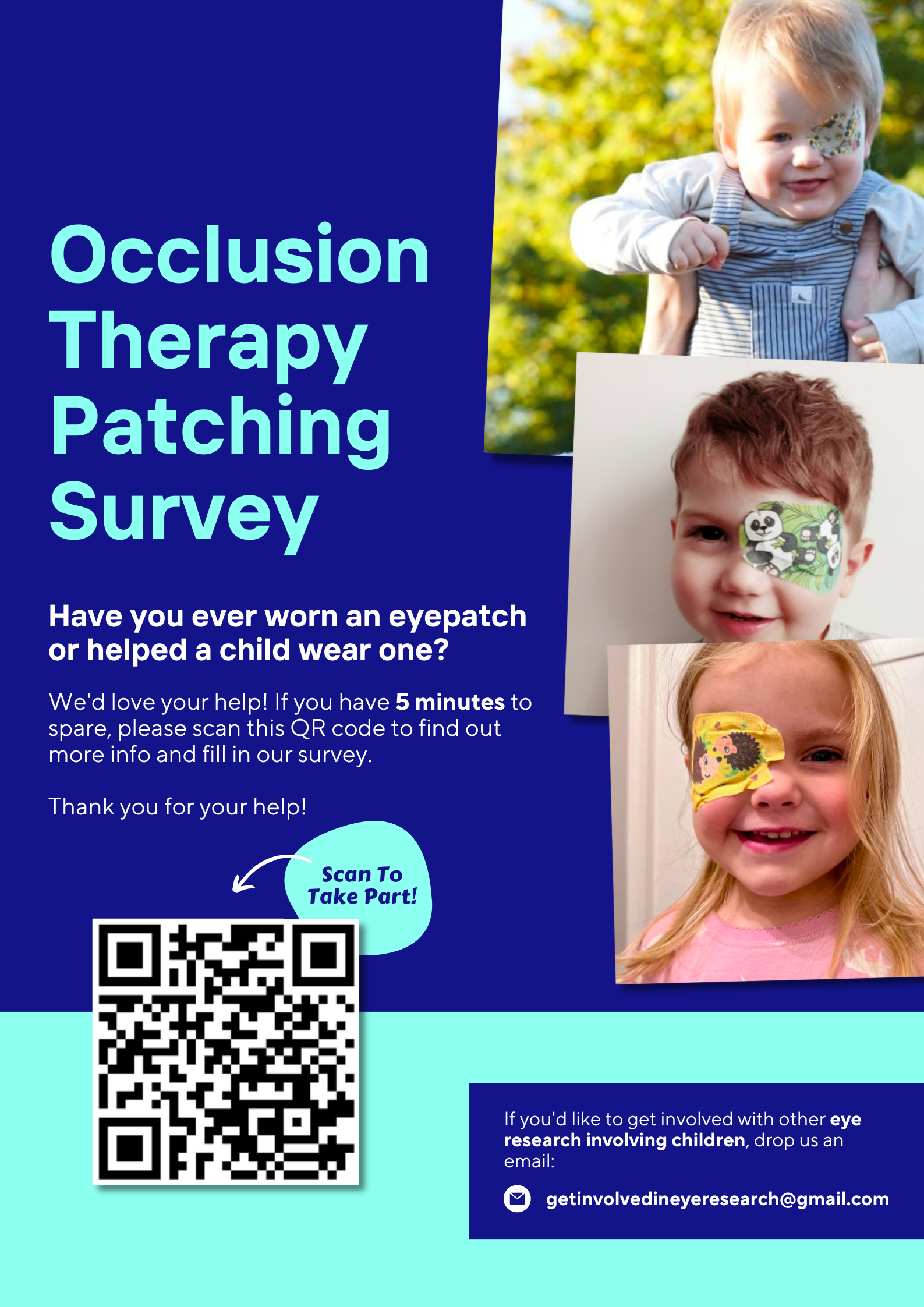 Our paediatric team is carrying out a study to further understand the challenges experienced with patching treatment and is launching a survey looking into the barriers and facilitators to occlusion therapy. By getting some learned experience from a wide range of people involved in patching - patients, parents, teachers, healthcare professionals, we hope to improve visual outcomes for children. 
We would also like to get a clearer understanding of whether new advances in the field, such as apps and game technology would be useful for people in everyday life. For example, an app that can detect whether a child is wearing their patch, which then rewards them within the game.
Our aim is to be able to change and influence the treatment outcomes of occlusion therapy in the future - and for this to be achieved, we need your help. If you have any previous experience of patching, or helping someone else to patch, we would love to hear from you. To take part in the study please complete our survey. 
---
Survey to help us improve Patching Therapy Experiences: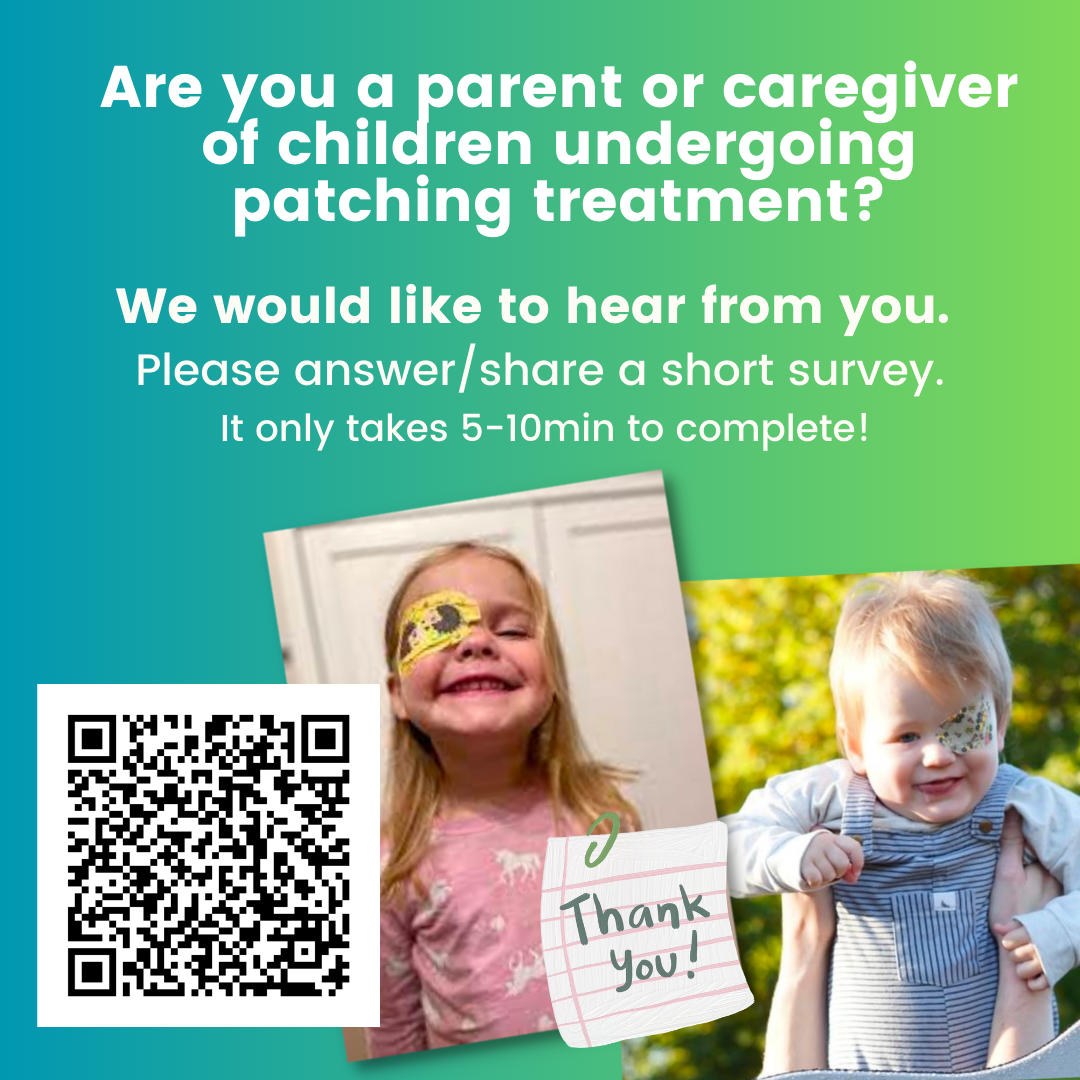 Are you a parent or caregiver of children currently undergoing patching treatment?
NUCLEOLUS Software is company that specialises in crafting interactive healthcare solutions. A spinout from the University of Southampton (https://www.nucleolus.co/), dedicated to enhancing the experiences of families like yours.Your voice matters, and we invite you to be a part of this survey. By sharing your experiences, you can contribute to shaping innovative solutions that make patching treatment more manageable and rewarding for both you and your child. To take part in the study please complete our survey. 
Thank you!
---